Mira and Lucas have been sailing together on the Olympic Nacra 17 since July 2022, with both l'APerçu and Magic Marine supporting them on their way to the top! 
During the winter months, they mainly sail in Lanzarote. They were able to test out some of the new Magic Marine sailing gear for us and are happy to share their findings!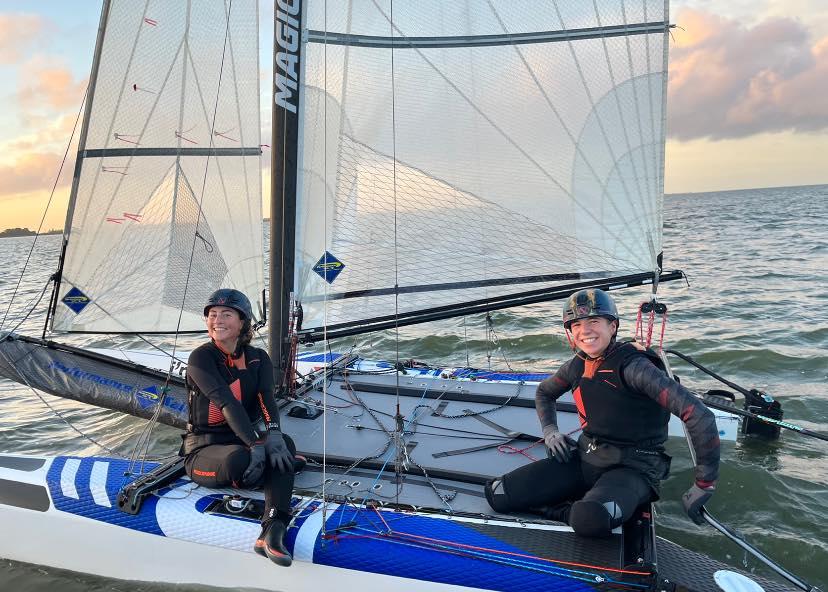 Lucas says: the new Split toe shoes are super comfortable combined with agility and feel of the boat. I have now been sailing for six months with shoes with a thicker sole (the ultimates), and that wasn't really bad either, but then to be able to step into these split toes... that was really good! Mira has never known anything but thick soles that are also made for hanging rather than standing in a trapeze, 2 days of walking over the edge of the boat with those split toes and also big fan! I tested the Elite fullsuit and Mira the long john. 
Mira explains: the zip is very nice. It's nice and warm without necessarily hindering flexibility. The padding on the knees is good thickness so you won't have blue knees at the end of the day. The suit stretches a bit around the ankles, but that goes away after a bit more wearing. 
Lucas adds: I tested the Elite fullsuit in Duinbergen last week while kiting, absolutely perfect. The suit is warmer than its predecessor, the ace, but a lot more flexible! You notice this immediately when putting the suit on 😊 it goes a lot easier. A nice touch is the magnetic puncture on the zip. No negative things to say about the Elite wetsuit. I personally did feel that the size falls rather small, so if you're unsure between an S and M, definitely go for the M 😉.

Both sailors also sail with the wing harness. Super for sailors who are 'busy bees' in trapeze and like to have lots of room to move!

You can follow Mira and Lucas on their Facebook and Instagram page!